Water Cooled Blowers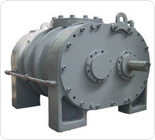 Champion Water Cooled Air Blowers are similar to air cooled type in construction and performance except in the change of cooling arrangement. In water cooled blowers the main casing & side plates have water jackets around them, where water is circulated, which dissipates the heat generated and keeps the internals cool. Water cooled blowers are recommended for applications where discharge pressures exceed 7000 mm WG, since it is essential to dissipate heat for efficient working and long life of the bearings and seals. Everest blowers have a unique design of single inlet & single outlet for cooling water and no cumbersome water pipe co-nnections externally. Internal circulation of water to various areas is through inbuilt channels. This unique design makes the operations very simple, yet very effective. The cooling water inlet is at the bottom so that the water rises up against gravity, reaching all the corners before it comes out from the outlet. The flow rates of cooling water are low.
Standard Design & Constructional Features
Factory Engineered, factory guaranteed, superior product.
100% oil free air delivery.
Alloy steel hardened and ground timing gears.
Anti-friction bearings.
Rotary oil sealings.
Rigid one piece CI casing and side plates.
Horizontal and vertical configurations available.
Easy rotor timing setting.
No vanes, valves or rings to wear.
Large inlet and outlet connections for minimum loss.
Improved volumetric efficiency and reduced operating temperature.
Alloy steel toughened shafts ground to close tolerances.